Contact Us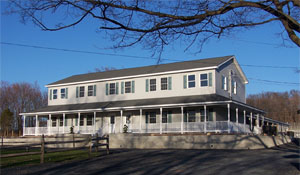 Our boarding facility is located in scenic Wallkill, NY with a training office in Mahwah, NJ.
for Boarding needs please contact us at (845) 895-8118 and inquire about our office hours For training needs, you may also call (201) 529-2819. You can also reach us by fax at (845) 895-1883.
Don't delay! Call us to reserve your summer or holiday vacations early or to make an appointment to tour the the Tri-State Area's premier boarding experience. Please note tours are by appointment only (based on availability) and may be unavailable during peak periods.
Policies
Our facility operates by appointment only for tours, drop offs and Pick ups. Drop off and pick up of guests is by appointment only between the following hours (subject to change):
Daily: 8 AM - Noon ONLY
---
The office is closed on all major holidays. There are no drop offs or pick ups. (however we are caring for your pets 365 days a year)
Boarding reservations are confirmed by a non-refundable/non-transferrable booking fee (which is credited to final balance).
Payment is due upon drop off - we accept Visa, Mastercard and Cash
You are responsible for the Full payment of your contracted stay, regardless of an early checkout
All sales are final and No refunds are given. In-house credit will be applied for any early departures. These credits will remain available for 1 year from your exit date
Pet owner must be present at drop off to sign boarding agreement and veterinary care forms.
Owner agrees that to best of knowledge pet is in good physical health, well socialized and has shown no signs of aggression. We do not accept aggressive pets.
We supply a quality dry diet for our guests. However, should you decide to send your own food, any dry food must be packaged in zip lock bags per meal. We do not accept RAW diet.
All Vaccinations must be updated a minimum of two weeks prior to arrival. Making friends is easy but so is catching kennel cough and other airborne viruses. We do all in our power to protect your dog from contagious illnesses however dogs can be carriers without showing symptoms. In an effort to protect your pet as well as our other guests we request that your dog not visit any daycare/boarding facility/vet office or dog park at least 14 days prior to arrival.
No vaccine is 100% effective (just like in people) but to minimize risk the following vaccines are required to enter our facility:
Bordetella
DHLPP
Rabies
OPTIONAL but recommended: Lyme, Canine Influenza
Kennel reserves the right to deny boarding of your pet based on age, temperment or health concern
Pet owner is responsible for any damages pet may cause through destructive behavior
Kennel supplies all bedding and food bowls. Due to sanitary reasons we do not accept outside bedding.
We do dispense medication for a fee. However we do not do any injections.
Office hours and boarding rates are subject to change.